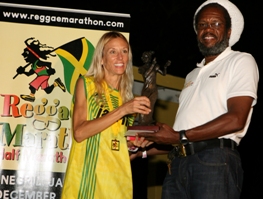 Top Jamaicans in Reggae Marathon for Venezuela, Francis recovering
By Dania Bogle
THE top Jamaican male and female athletes from the 2013 Reggae Marathon in Negril, Westmoreland on Saturday, December 7 will represent the island at the Venezuelan Marathon in Caracas on February 23, 2014.
Two athletes, one male and one female, were invited to participate in the South American event. The Development Bank of Latin America (CAF) will cover the travel, hotel, transportation, insurance, and meal costs for the participating athletes.
The prize money for the event is between US$5,000 and US$10,000 for first to fifth place. The Reggae Marathon, Half Marathon, and 10K events will have prize money of more than US $10,000. Prizes will be allotted in Open, Masters, and 10K School Boy and School Girl categories. The top three school teams will receive six computers.
Meanwhile, race leader, Kirk Brown, has been invited to participate at the Barbados Half Marathon and 10K Road Race on December 8 and has expressed disappointment that he will not be in Jamaica to vie for the title.
"It's a tough decision and while I would want to give my fans a reason to cheer in the grand finale and silence the crowd that would be sheering for my opponents, I definitely have to compete in Barbados and fly the Jamaican flag there I am unable to cancel," Brown said.
Reggae Marathon organiser and Kingston College Alumnae Alfred 'Franno' Francis has been recuperating following medical treatment for a virus he picked up while in New York to do promotion for the marathon in November.
Francis fell gravely ill upon his return to Jamaica and was admitted to hospital where he had to undergo a blood transfusion.
Francis in an email said thank you for the outpouring of love and support he received and the rush to aid by donations of blood.